Natural Gas: Levels To Watch Ahead
Natural Gas: Levels To Watch Ahead
On analysis of the movement of Natural Gas futures price in different chart patterns which I have already noted in my last few analyses, I find the eruption of some positive signals which are evident enough for an uptrend during the upcoming weeks. I find that the current weekly closing at $2.624 after touching the low at $2.582, seems to be an advance signal towards the fact that the Natural Gas futures price has tested the lowest level of the season. Secondly, this price level is evident enough to show the oversold territory of the Natural Gas futures before the weather turning towards more colder season.
I find that the Natural Gas going to test new levels during the upcoming weeks as expectations for growing withdrawal announcements during the upcoming weeks amid changing weather, which has turned to be more cooler before the Christmas. Moreover, after Fukushima, most of the major economies have moved away from nuclear energy. Japan, Germany and France are leading economies who are going to fill this energy gap with very soon.
Before proceeding for Christmas holidays, I would like to wish you all a Happy Christmas. I find the growing demand for the natural gas amid avoidance of coal use will definitely enhance the glitters of this colorless and odorless gas.
I will be back only when the Natural Gas futures price will cross the level of $3.456. Till then, good bye to all my valuable readers and critics too! Wish you all Happy Christmas and New Year!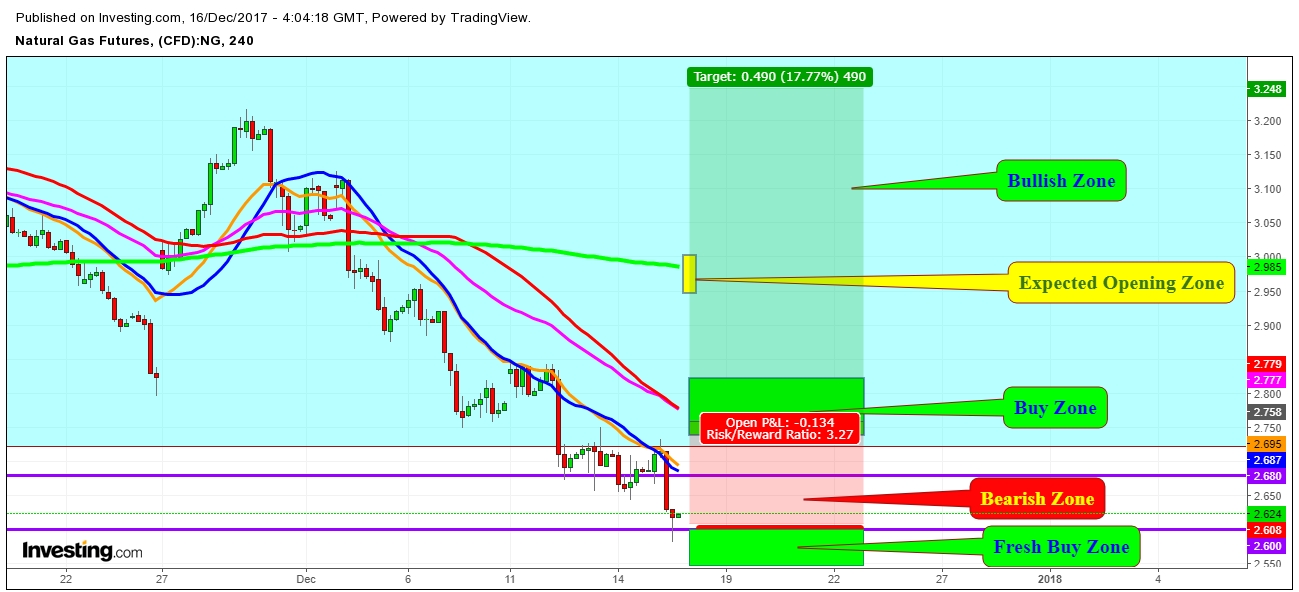 Natural Gas Futures Price 4 Hr. Chart – Expected Trading Zones For The Week Of December 17th, 2017
Disclosure:
1. This content is for information and educational purposes only and should not be considered as an investment advice or an investment recommendation. Past performance is not an indication of future results. All trading carries risk. Only risk capital be involved which you are prepared to lose.
2. Remember, YOU push the buy button and the sell button. Investors are always reminded that before making any investment, you should do your own proper due diligence on any name directly or indirectly mentioned in this article. Investors should also consider seeking advice from an investment and/or tax professional before making any investment decisions. Any material in this article should be considered general information, and not relied on as a formal investment recommendation.